When your customers are 'it', make bloomin' sure that they find you!
---
---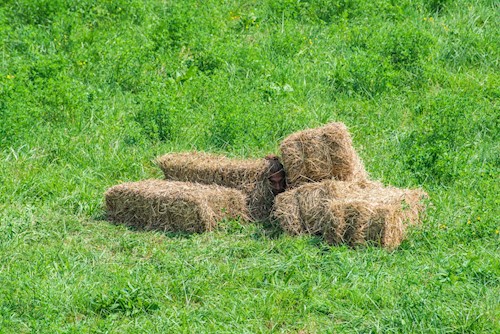 Pic: nascondinoworldchampionship.com
The 'Hide and Seek World Championship' is a real thing, you know.
Named after the Italian for 'hide-and-seek' – nascondino – the event is held annually in the ghost town of Consonno in Italy (a story in itself).
The current champion, BTW, is a team from Marseille.
Little explanation of the rules is needed here – hiders and a seeker ('it')
Academic articles and opinion pieces talk about the value of games like hide-and-seek in child psychological and cognitive development.
About how on one hand, the hider learns how to be autonomous, okay 'on their own' as it were… but with the reassurance of being 'discovered by someone who's looking, someone who really wants to find us.'
To quote pediatrician and psychoanalyst, D. W. Winnicott, "It is a joy to be hidden but disaster not to be found."
In this short article we look at the latter in the context of what it means to be in business in the second decade of the 21st century.
Yesterday evening, I sat down with my partner to draw up a random list of 10 local (Northern Ireland) businesses: absolutely no science was applied – it was simply just whatever came to mind.
We quickly had a truly diverse list that included a practice of accountants, a firm of solicitors, and a couple of restaurants, among others (I wonder what a psychoanalyst like Mr. Winnicott would make of our list!)
Taking my list, I then looked at certain elements of the businesses' websites that help them get found online – things like content, meta-tags, mobile-friendliness, load speed, and so on.
(You can click on the image below to test the mobile friendliness and load speed of your own website.)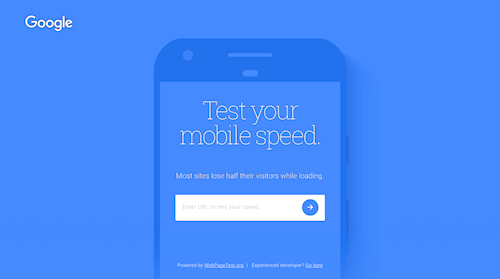 In well under an hour I had identified a number of basic roadblocks in 8 out of 10 of my random businesses… and how – not surprisingly – these 'rookie errors' were having a damaging effect on these businesses' ability to be discovered in Google for the sorts of things they would like to be found for.
There were some big surprises in there, too: for example, one very well known and highly reputable business that I would have expected to be at the top of the table, aren't really at the table at all… and a large firm of solicitors was visible for some of the niche services they offer, but are missing out on more obvious, 'generic' traffic.
The good news is that most of the things responsible for losing these businesses enquiries and orders (read, money!) could be quickly and easily fixed.
With a professionally built website for a small business costing anywhere between £1,000 and £4,000; to well over £10,000 for a large site (I've worked on builds that have cost a lot more than this), it can be a significant financial investment (note investment, not cost).
For me, this is one the most frustrating parts – so many businesses recognise the competitive advantages of a well designed website, but are missing out on business on account of not applying even the most basic search engine optimisation (SEO) principles to those sites.
Does it make a difference?
Goodness, it sure does.
Take this, for example…
In his September 2016 article 'Comparison of Google clickthrough rates by position' Dave Chaffey of Smart Insights makes reference to Advanced Web Ranking's CTR Study.
Here we see the organic click-through rates in relation to search ranking for June 2017 for all categories internationally: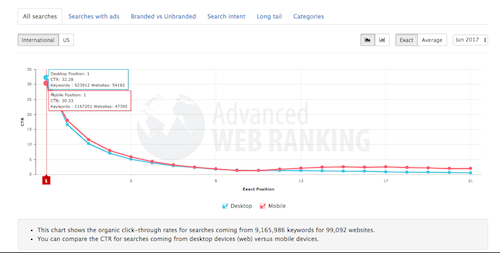 Source: Advanced Web Ranking CTR Study, June 2017
As a point of demonstration, I've pulled together here the difference that ranking first, fifth and tenth makes to click-through rates:

No elaboration needed other than – the higher the ranking in search, the more traffic to your site!
So, what can you do about it for your business?
To start, it's always helpful to know how well your business ranks in Google for the terms you would like to (need to) rank for.
The temptation here is to go straight to your search bar and google something like 'solicitors Belfast' [insert your own relevant term here]
Stop right there!
The problem with this is that our own search history and behaviours influences what we see in Google search… and this is likely to be different to the results your potential customers will see.
You can get a better sense of how you really rank by going 'incognito' in Chrome, or using 'Private Browsing' in Safari.
For more information on how to do this, just click on the image below to check out my little video on the subject: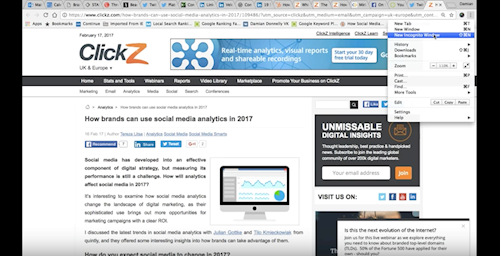 Now, I'm not going to make an over-inflated claim to "get you to the top of page 1 in Google" (you would do well to ignore those sort of nonsense promises).
Not at all.
What you need is a good, clear jargon-free understanding of what Google is 'looking for' …backed up with real-world actions that you (or your web people) can do to give them what they want. Things like:
Great, readable, easy-to-navigate content that your customers and potential customers will find useful


Well optimised meta-tags and other 'on-page' elements


Backlinks and other 'trust signals'


Mobile-friendliness



And a load of other stuff I'm not sharing here!
Not only will all this help you avoid the 'disaster of not being found', attract more visitors to your site, it'll also help you keep them there, too.
Author
Damian Donnelly, Ad_Man Creative Marketing Insight & Strategy, Belfast, Northern Ireland