Freefalling: The Problem with 'Free'
---
---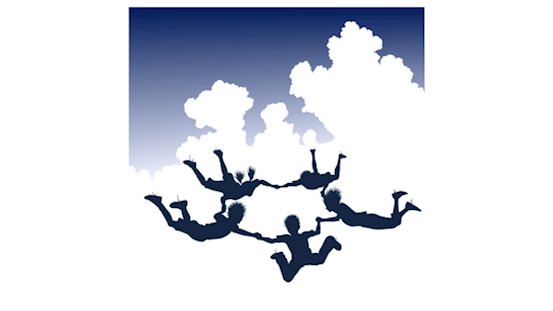 We all like something for nothing.
But haven't we all heard the adage that there is no such thing?
The problem with 'free' is, well, that it's rarely truly free.
Why?
Because there is no value in free.
This is known as the Common Law of Business Balance, often articulated in this quote attributed to 19th-century writer, art critic and social thinker, John Ruskin:
It's unwise to pay too much, but it's worse to pay too little. When you pay too much, you lose a little money — that is all. When you pay too little, you sometimes lose everything, because the thing you bought was incapable of doing the thing it was bought to do. The common law of business balance prohibits paying a little and getting a lot – it can't be done.
If ever we need a neat demonstration of this in the world of marketing, we only need to look to Facebook's organic reach stats.
Depending on which source we go with, organic reach for a Facebook page is estimated at anywhere between 6.15% and 2%. Of course, what this means for small businesses in the real world is if they have a fan-base of, say, 500, they might expect to reach 31 of them with any particular post. (Please note that these figures were the most up-to-date that I could find.)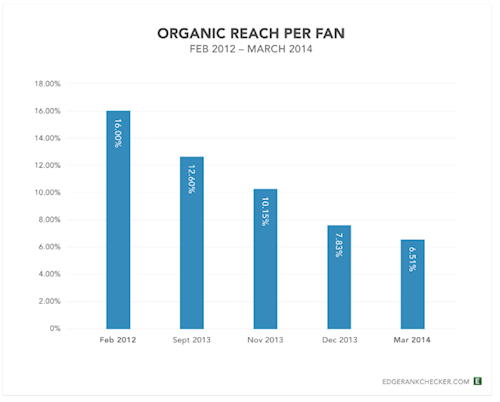 Not great, though if we're to remain optimistic, well at least it's something for nothing.
A much more up-to-date article from ClickZ entitled 'Paying to play in social media' presents this much more graphically: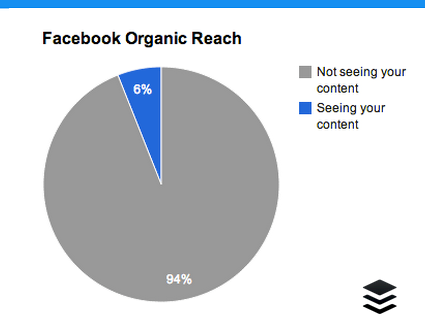 And the decline appears to be a continuous one. Research by Socialflow reported in Marketing Land, shows how organic reach for publishers' posts declined by 52% between January and mid-July 2016.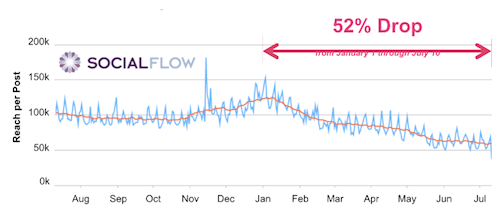 Okay, we all get it that one of the main drivers for ever-decreasing organic reach is a commercial one. However to be a little controversial, I might argue that for Zuckerberg et al to just 'give it away' would be to say that the product they're offering has little or no value. Not that Zuck needs me to do his bidding for him… but the thing is, I can buy that, too.
Of course, another reason for the decline is Facebook's mission to only show fans the content they want! This is where the need to create and curate compelling and engaging content comes in...
Ironically, when it comes to marketing, I propose that both the opportunities and problems associated with 'free' are to be found at a point somewhere up the social media family tree.
Not too long ago, if a business wanted to get its message out there, it had to pay for it. I know this first-hand as for over a decade I worked for a daily newspaper where a full page for one night would have set you back upwards of 10 grand.
Of course, full pages were the preserve of 'national' advertising accounts and agencies and a small pantheon of larger local retailers. Most other businesses were spending 100s and 100s of pounds a night to be there in a much more modest way.
Then along came social media.
Okay, I acknowledge that this somewhat simplifies and short circuits the story, but the need for brevity here prevails!
Social media made it possible for businesses of all shapes and sizes to get their message out there for free and, not surprisingly, many businesses began focusing their efforts on this new 'free'.
And for a while this was grand.
Or was it?
The problem is, these new opportunities are likely to have contributed to creating a 'culture of free' in which for too many businesses free social media has come to represent their entire marketing efforts… and we have already seen from our brief look at Facebook organic reach just how little we get for nothing.
So, how much 'should' businesses be spending on marketing then?
While expert guidance on this varies, to ensure proper representation here I have presented a range of my findings:
What does this look like for businesses in Northern Ireland?
I suspect this will surprise – perhaps shock – many or most business owners here.
According to Department for Business Innovation & Skills figures for 2015, there were 27,250 businesses here with 1–9 employees, with an average turnover of £384,500.
This means that the marketing spend for these businesses should be anywhere between £23,000 and £77,000.
For a sole trader, this works out at £10,000 to £33,000.
I am very fortunate to spend lots of my time in front of businesses of all shapes and sizes and I can share here that few are spending anything close to that sort of money.
And in many ways I understand – for most these figures appear prohibitive, particularly for those who rely too much or solely on 'free'.
As a result, over the last number of years I have found myself becoming expert in helping businesses achieve more with less.
But 'less' does not mean 'nothing'.
Sure, the free stuff does still exist: to some extent, things like website search engine optimisation, social media, and link-building can cost little more than our time… but here's the rub: if businesses are going to rely heavily or solely on free, then they need to know what they're doing!
And this is at the heart of my motivation behind this article: few do know how to get the most of the few bits that are free.
Every day, I see dozens of websites and social media channels – many for businesses relying mostly or solely on 'free'.
Very quickly – within a few minutes, really – I can tell when a business hasn't invested in the 'tricks of the trade' – the smarts – to help them get more out of 'free'.
This is asking for trouble: businesses simply can't have it both ways.
There is a science to these things; a science that requires expert guidance and advice, and such expertise is well worth paying for.
We can say from this, then, that to get something for nothing you have to pay for it!
To quote Karen Fraser, director of Credos, the Advertising Association's think-tank
"I can't see a situation where you wouldn't want to spend money so that more of your potential customers know that you and your products exist."
If you like to know more about getting the smarts, please get in touch.
I would offer lunch, but you know what they say about lunches and free…!
On a serious note, I am glad to offer businesses the time to show how I can help them get more for less. Beyond that, though, to follow the line of motivational speaker, Mike Lipkin, who is known for opening his presentations by saying: "I would do this for free, but I am going to make you pay for it so that you appreciate what you're getting." 
I suspect that those who are the most serious about telling more potential customers about their products and services will get what I mean.
Many thanks for reading.
Author
Damian Donnelly, Ad_Man Creative Marketing Insight & Strategy, Belfast, Northern Ireland
To enable comments sign up for a Disqus account and enter your Disqus shortname in the Articulate node settings.